It's important for us to stay fit and healthy, taking into account that all of us are continually getting older. Because of this, in this article, we're going to tell you all about the benefits of physical activity for the elderly.
We'll be talking about exercise that's very easy to carry out, and doesn't need to be intense. It doesn't need to be any particular activity either.
Something that is clear is that, as we age, our cardiovascular and respiratory systems get weaker. In addition to that, there is a deterioration in the musculoskeletal and nervous systems. Carrying out regular physical activity, even in old age, is essential in order to delay the physiological aging process.
Health experts recommend regular exercise for the elderly, as it offers innumerable benefits, and helps to make our lives useful for longer. According to the National Institute for Ageing, exercise is good for people of any age and can alleviate the symptoms of many chronic diseases. Contrary to popular belief, weakness in our bodies and lack of balance are more linked to inactivity than to age.
4 benefits of physical activity for the elderly
The benefits of physical activity for the elderly are many. For that reason, we're going to be highlighting the 4 most important ones for you today.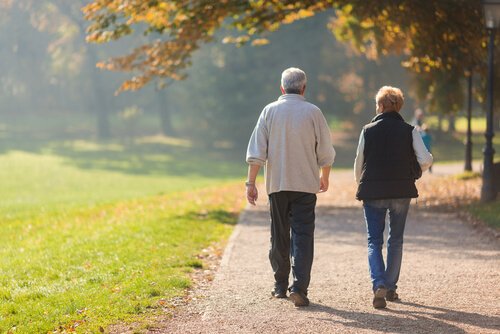 1. It strengthens the heart
When older people carry out physical activity, their muscles need more oxygen to function. To meet this need, the heart has to perform work that is much more demanding. The channels the blood travels through are no longer as free nor as functional as they used to be. This is because there is no longer as much strength to pump oxygen around the body.
So, when adults carry out physical activity, it helps them to consolidate and maintain the heart's ability to relax. In addition to that, it reduces the risk of hypertension and cardiovascular diseases, as well as reducing difficulty in breathing.
Besides that, cardiovascular exercise for the elderly cleanses the respiratory tract and helps fight common diseases, such as a simple cold or flu.