Treatments for alcoholism that aim to achieve normal drinking levels
Experts opt for these when the person in question doesn't want to quit drinking completely as they don't have physical problems. The most representative program from this group is that of Sobell and Sobell.
The Sobell and Sobell program aims to steer problem drinkers away from a chronic drinking problem. Its foundation is teaching self-management skills, as its objective is to use only a brief intervention. In this intervention, the individual should put many of the strategies the therapist teaches them into practice.
These drinkers tend to be young, with a high level of education. They're usually employed and have few severe episodes of alcohol withdrawal. Most of them have been abusing alcohol for a period from five to ten years. In terms of their personal social and economic resources, they're not much different from those of the rest of the population. That means that they're in a good position to make important changes in their lives without too many obstacles.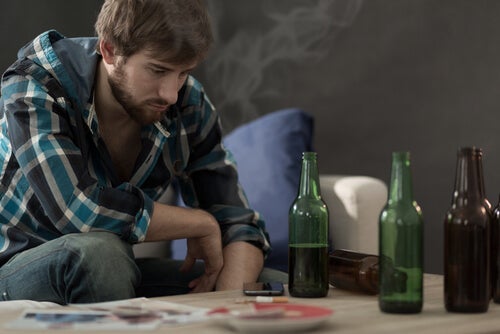 The Sobell and Sobell program takes four weeks and the expert administers it on an outpatient basis. It's not very intensive in terms of the work the patient does in the clinic, but it entails a lot of homework. Ultimately, it tries to have the patients make the change for themselves.
Sobell and Sobell program guidelines
These are some of the suggestions laid out by this program: do not consume more than three units of alcohol per day and don't drink more than three days a week. If you follow this rule, your tolerance for alcohol will be lower. Additionally, you should never drink in high-risk situations and you shouldn't have more than one drink per hour. Another important piece of advice is to be sure to wait at least 20 minutes between the time you decide to drink and the time you actually do.
Training in problem-solving and relapse prevention are very important in this program. This will help the patient identify those situations in their lives linked with alcohol use. They can then use the strategies they learned to face these situations.
Conclusion
For both of the types of treatments for alcoholism we discuss here, the ultimate aim is for the patient to learn alternate coping strategies. These strategies should serve to put a brake on the impulse to drink alcohol. These could be as simple as social techniques for learning to say "no" to people who incite the person to drink. Another example is to learn new ways to efficiently solve the problems that the alcoholic tries to solve by thinking.
The aim is to disconnect you from the addiction and start on a new path. It's true that the process can be uncomfortable. However, with focus, you can face any problem that comes up.
In today's age, psychological therapies for alcoholism are extremely important, especially those that focus on controlled drinking. That's because there has been a huge increase in young people who choose alcohol as a way to deal with their problems and emotions.
A huge goal of all this is to succeed in stopping these young people from becoming pathological drinkers. Instead, it's much better for them to learn effective ways to manage their lives free from alcohol consumption.